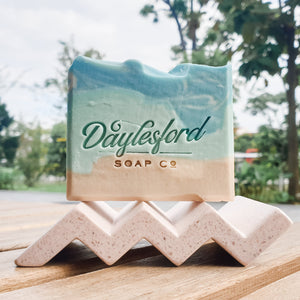 (Price does not include the soap dish)
A generous dollop of Dead Sea mud in every bar. The next best thing to being there!
Scented with peach, violet, mint, musk and vanilla bean.
As this is a handmade soap, each bar will be unique. It may not be exactly as pictured.
Please read ingredients carefully and discontinue use if irritation occurs.
About: Daylesford Soap Co.'s soap is made by hand, using the traditional cold process method. It is specially formulated to be long lasting, creamy and gentle on your skin. 
Weight: 140g
Ingredients: Water, olive oil. coconut oil, rice bran oil, segregated, sustainable palm oil* sodium hydroxide, fragrance, Dead Sea Mud, mineral mica
From Daylesford:
*I do not source my palm oil from Indonesia or Malaysia. My palm oil does not contribute to deforestation and is purchased from a family owned farm in Colombia. Their palm is certified organic and is 100% traceable to their plantations.
Brand: Daylesford Soap Co.
Daylesford Soap Company is a boutique producer of artisanal bath and body products.
Country of origin: Made in Australia