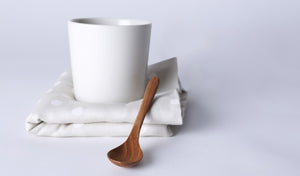 Brand : Chabatree
Weight : 10 grams
Dimension : W 2.70 x L 12.00 x H 1.50 cm
Material : Plantation Teak wood
Beautifully design hand-crafted coffee spoon made from teak wood, a durable and beautiful material. Make Chabatree utensil full of warmth and character. It will never be out of your special time.  
かわいらしい丸みを帯びたコーヒースプーンです。
Care instruction :
occasionally food grade oil rub to keep the wood looking gorgeous. Clean with a damp cloth or mild soap.  
お手入れ方法:
ご使用後は手洗い、自然乾燥させてください。特に乾燥が気になる場合は、ご家庭の食用オイル等を柔らかい布に染み込ませて塗布すると、美しい木肌が保てます。水へのつけ置きはお避けください。また食器洗浄機はご使用になれません。