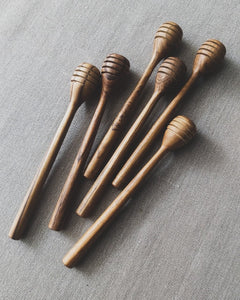 HONEY DIPPER
Made from solid teak wood, handmade with love in Bali.
Finished with food grade beeswax polished wood.
Size: 19 cm Long x 2.5 cm diameter

What does a HONEY DIPPER do?
A honey dipper it is used to transport honey from the pot. It
releases a slow and steady dribble, allowing you to get an
even coating of honey without dribbling down the side of
your honey jar and over your kitchen counter. You can use it
to stir honey infused drinks.

How do you use a HONEY DIPPER?
One way to use it is to dip the grooved end into the honey
pot, then slowly twirl the handle between the thumb and
fingers then you move it to your cup of beverage or use it to drizzle honey on bread, biscuits, well anything that you
desire.
Brand: Fredhelligh