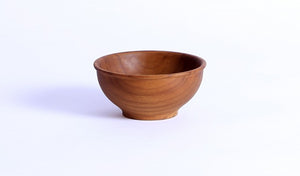 Brand : Chabatree
Weight : 60 grams.
Dimension : W 11.0 x L 11.0 x H 5.0 cm.
Material : Plantation Teak wood
Small Teak bowl for dessert or salad. With environmentally conscious we using plantation wood with natural oil finishes to let you enjoy every day diner or tea time with no chemical harm.
プランテーションチークの木を
一つ一つ丁寧に手作業で削りだした小さなボウルです。(液体物をいれるのには適しません。あらかじめご了承ください。)
Care instruction:
Wash with warm soap water, but never leave to soak. Not dishwasher safe. Rup with olive oil time to keep to condition the wood.
お手入れ方法:
ご使用後は手洗い、自然乾燥させてください。乾燥が気になる場合は、ご家庭の食用オイル等を柔らかい布に染み込ませて塗布すると、美しい木肌が保てます。水へのつけ置きはしないでください。食器洗浄機もご使用になれません。