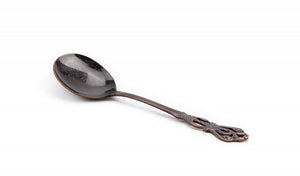 Brand : Chabatree
Weight : 36 grams.
Dimension : W 4.50 x L 18.00 x H 0.10 cm.
Material : Stainless steel
Rune Gold cutlery set is one of "Tsubame" series, a good quality Japanese stainless steel was made by a craftsman that still inherited the traditional crafts legends. This cutlery set has been designed to present a traditional vintage style.
Care instruction : Use a soft sponge and wash with warm soap water, then let it dry. Avoid using a hard sponge to protect the stainless steel surface.