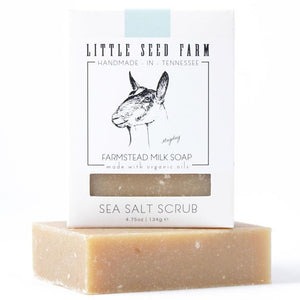 About Bulls Bay Saltworks:

To create our Sea Salt Soap, we use the pure and clean sea salt from our friends at Bulls Bay Saltworks. Rustin and Teresa, the founders of Bulls Bay, subscribe to many of the same environmental and lifestyle beliefs that we do at Little Seed, making it the perfect pairing for our organic soaps. Bulls Bay is located in the Cape Romain National Wildlife Refuge, which contains a Class One Wilderness Area and is home to one of the healthiest saltwater ecosystems in the United States. At their property, Rustin and Teresa evaporate water in a big greenhouse known as "The Solar Tunnel". The tunnel is where Bulls Bay salt is crystallized using solar and wind evaporation, harvested by hand and set aside to complete the drying stage.

It's important to distinguish Bulls Bay's pristine collection, harvesting and preparation techniques from larger salt operations. Typically, refined salt involves large-scale mining, iodizing, bleaching, and diluting with anti-caking agents. Various chemicals are used during processing, which destroys many of the beneficial minerals and trace elements in salt. Bulls Bay salt does the exact opposite, leaving all minerals and trace elements intact. We encourage you to read more at www.bulllsbaysaltworks.com

About Little Seed Soaps:

Gentle, highly moisturizing, nourishing, and free of perfumes or dyes, our soap is perfect for every day use and safe for those with sensitive skin - little ones included. We use fresh, raw milk from our own dairy herd. Each bar is proudly handcrafted and cured at Little Seed Farm in small batches using only the finest and most gentle ingredients:

our Raw Goat's Milk + Certified Organic Olive and Coconut oils + Certified Organic Lavender, Lemon, Rose, Rosemary, and Spearmint Essential Oils + Bulls Bay Salt + Fine Pumice.

To reap the maximum moisturizing benefits from your Farmstead Milk Soap, after lathering only rinse until the suds have disappeared. This leaves a silky layer of milky goodness to protect and heal your skin.

- a helpful tip -
We don't use palm oil (a hardening oil) in our soap for ethical and environmental reasons. As a result, our bars will soften if left in a pool of water. To help keep your bar at it's best, please keep it in a draining soap dish away from direct streams of water.

Ingredients: virgin organic olive oil, organic coconut oil, grassfed goat's milk (from our herd), sodium hydroxide, Bulls Bay Saltworks sea salt, organic essential oils of geranium, lavender, lemon, rosemary, and spearmint.
Key Ingredients:
RAW GOAT'S MILK - Milked fresh daily from our sustainably raised micro herd. Our goats spend their days in the sun and fresh air on Little Seed's pastures. They happily chomp on native grasses, herbs, and forages and give their thanks in the superior quality of milk they provide daily.

Goat's milk is gentle, nourishing, and full of moisturizing butterfat that soothes dry or irritated skin. Because of its unique structure, in particular its short protein strands, the abundance of natural minerals and vitamins in our goat's milk is easily absorbed into your skin, helping to moisturize, protect, and heal.
ROSEMARY ESSENTIAL OIL (certified organic) - Rosemary is a powerful essential oil, providing a boost to mental activity and relief of respiratory problems. The oil is known to help tone the skin and remove dryness.

SPEARMINT ESSENTIAL OIL (certified organic) - As an aromatherapy agent, spearmint essential oil helps with headaches, migraines, nervous strain, fatigue and stress. When used on the skin, it can relieve itching and helps with acne, dermatitis, and congested skin.

OLIVE OIL (certified organic and cold pressed) - This oil has been used in skincare and health for centuries and its rich history isn't just a fluke. Olive Oil is full of antioxidants (such as vitamins A and E) that help neutralize free radicals that cause skin damage. The hydrophilic properties of these antioxidants help to form a protective barrier, trapping moisture on your skin and allowing for longer hydration. We use cold pressed, certified organic oils to ensure that only the good stuff comes through in our soap.

COCONUT OIL (certified organic) - Helps strengthen underlying tissues and removes excessive dead cells on the skin's surface, keeping skin soft.
Picture credit: Little Seed Farm